The exhibition I want to visit, get into the vacuum, feel the (un)structured space, and make some written and photo art - 'On Space Time Foam' is on display until February 3rd, 2013 at the HangarBicocca in Milan.
The 'On Space Time Foam' suspended art exhibit by Studio Tomas Saraceno is composed of a transparent surface accessible to visitors, hanging at a height of 20 metres and covering 400 square metres on three layers, for a total of 1,200 square metres. Known for his surprising structures that draw the public into extraordinary spatial and emotional experiences, the large soft and floating film welcomes visitors who will thus find themselves moving mid-air between the floor and the ceiling, earth and sky, and it compels them to lose their spatial coordinates. This work of creativity and scientific research was made possible through the interaction of skills and experiences in a broad array of fields of knowledge, and thanks to Pirelli's support.

As the artist explains, "the films constituting the living core of HangarBicocca are constantly altered by climate and the simple movement of people. Each step, each breath, modifies the entire space: it is a metaphor for how our interrelations affect the Earth and other universes."
Beatrice Wood passed away in 1998, at the age of 105 years of age, with the last 25 years of her life her most productive, creating work to satisfy a growing market for her ceramics, writing books and visiting with the hundreds of people who showed up on her doorstep. When asked the secret of her longevity, she would simply offer "art books, chocolates and young men".

"Do be true to yourself, whether it's bad doesn't matter. The important thing - you have to copy while you're studying. And culture is - each of us - is like one pearl added to another to make a chain. We each contribute to the other. And that's all right. But once you're on your own, do that which comes from within. And I feel this very strongly."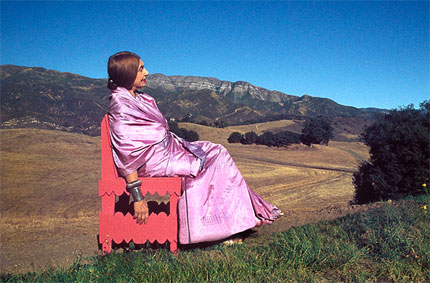 lauradesign asked: Why are you doing a PhD?
I believe that the knowledge is power, and being raised in the family of intellectuals, professionals in the humanities and arts (music), I was very curious as a child, and later on I wanted to learn more, expand my skills and knowledge; I felt inclined to the fields that I was interested in. The ICT's and Internet helped me a lot in synthesizing the creativity and innovation at my work and studies, making them interdisciplinary, so after my Master thesis research I've spent lot of time at the conferences, lecturing, working for the industry and education, then I realized that I want to continue with PhD. I like to teach and transfer the knowledge/skills in any form; for specific vocations doctoral work is necessary; it teaches me how to work independently on complex problems, and therefore it gives me better research (is hard!) and analytical skills that I can implement in education and the industry, life and arts as well. It also helps to understand how the mind of fellow researchers works (or should work). There are lots of advantages, and some fun, I believe.
Hope you are happy with my answer.
Update: this is now the official my PhD mission statement.
:-)